Public consultation on the A6/A507 Clophill roundabout improvement scheme gets going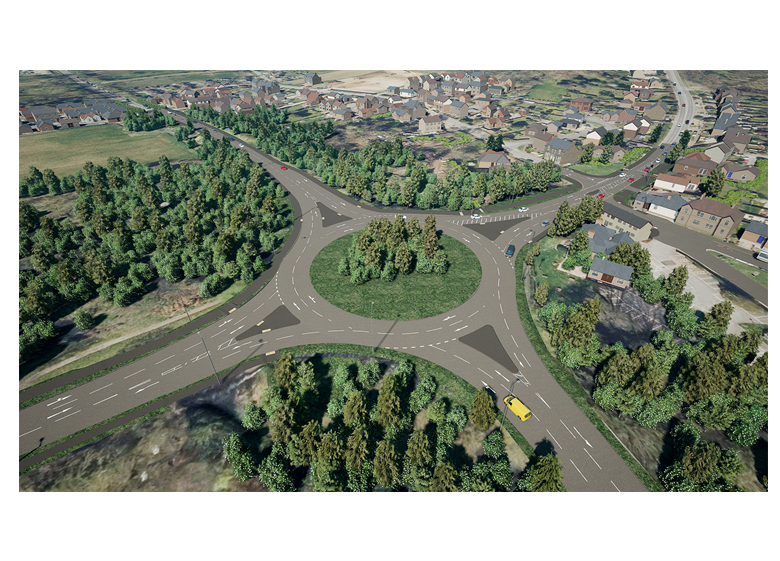 Plans to improve the busy A6/A507 roundabout at Clophill have been released and Central Bedfordshire Council is driven to understand what people think.
Consultation on the scheme that benefits from £6.8 million of government Levelling Up funding is now live and runs until Monday 11 July 2022.
To read more about the proposals and to comment please go to www.centralbedfordshire.gov.uk/consultations 
The proposals, shaped through community engagement earlier this year, would see two entry and exit lanes created on all four arms of the roundabout. This would create more capacity with more vehicles able to enter and leave the roundabout at the same time.
This would reduce congestion and journey times benefiting road users. Less time queuing and smoother flowing traffic would also help reduce CO2 emissions and improve air quality.
Four signalised toucan crossings would be installed, one at an appropriate position on each arm. These convenient and easy-to-use crossings would benefit pedestrians and cyclists and would be accompanied by a series of new footways and other improvements to encourage more active travel.
The footbridge on the A507 eastern arm would be removed. Its long access ramp needs to come down to widen the road to accommodate the extra lanes the project needs to ease congestion on all arms of the roundabout. One of the four toucan crossings will take its place.
Residents and road users can meet the project team, find out more and leave feedback at a community engagement and consultation event being held at:
Maulden Village Hall, Flitwick Road, Maulden MK45 2DN on Thursday 26 May 2022 between 4pm and 8pm
Cllr Kevin Collins, Executive Member for Planning and Regeneration, said: "We want to hear what people have to say about our plans to improve the busy A6/A507 roundabout at Clophill. This important project will ease congestion and reduce journey times, particularly at peak times, and this will benefit road users and residents.
"The scheme supports our sustainability agenda with the smoother flowing traffic reducing CO2 emissions and the four toucan crossings and the new and improved footways making it easier and safer for pedestrians and cyclists to enjoy more active travel.
"There are significant economic benefits too, with the increased traffic capacity at this key junction being important infrastructure to drive new development which in turn creates opportunities for rewarding work."
Plans would see work starting on the scheme in autumn 2022 and take about 12 months to complete.